MazorGuide Home > Culture > Book Club > From Ambivalence to Betrayal: The Left, the Jews, and Israel
Book Review: The Left, the Jews & Israel
From Ambivalence to Betrayal: The Left, the Jews, and Israel
by Robert S. Wistrich (Published:June 2012)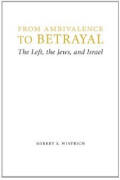 If you wondered how we Jews spawned groups such as "Jewish Voice for Peace" and "J Street," organizations who are full of hatred for anything Israel and any value that represents true Judaism, whose spokespeople regularly promote Palestinian propaganda while dismissing their Jihadist vows to annihilate the people of Israel, you might find some answers in Robert S. Wistrich book, From Ambivalence to Betrayal: The Left, the Jews, and Israel. Jewish self-hatred and Jewish apologetics date back generations. They promote Sin-at Yisrael, hatred of the people of Israel. These are the people, as tradition teaches us, that brought upon the destruction of the first and second holy temples in Jerusalem..
From Amazon Book Description
From Ambivalence to Betrayal is the first study to explore the transformation in attitudes on the Left toward the Jews, Zionism, and Israel since the origins of European socialism in the 1840s until the present. This pathbreaking synthesis reveals a striking continuity in negative stereotypes of Jews, contempt for Judaism, and negation of Jewish national self-determination from the days of Karl Marx to the current left-wing intellectual assault on Israel. World-renowned expert on the history of anti-Semitism Robert S. Wistrich provides not only a powerful analysis of how and why the Left emerged as a spearhead of anti-Israel sentiment but also new insights into the wider involvement of Jews in radical movements.
There are fascinating portraits of Marx, Moses Hess, Bernard Lazare, Rosa Luxemburg, Leon Trotsky, and other Jewish intellectuals, alongside analyses of the darker face of socialist and Communist anti-Semitism. The closing section eloquently exposes the degeneration of leftist anti-Zionist critiques into a novel form of "anti-racist" racism.

About the Author
Robert S. Wistrich is the Neuburger Professor of European and Jewish history at the Hebrew University of Jerusalem and director of the Vidal Sassoon International Center for the Study of Anti-Semitism. He is the author of numerous books, including, most recently, A Lethal Obsession: Anti-Semitism from Antiquity to the Global Jihad (2010) and Laboratory for World Destruction: Germans and Jews in Central Europe (Nebraska, 2007).
---
Read "From Ambivalence to Betrayal"
Send Your thoughts to: bookclub@mazornet.com.
Comments deemed appropriate will be posted online (without your email address)

Read more about Jewish literature
• Join the Book Club
• MazorGuide Jewish Book Club
• Jewish Identity in Literary Works
• Jewish Life: Tradition and Culture

• Jewish Literature
• Jewish Book Reviews

DISCLAIMER: The MazorguideJewish book club reserves the right to distribute via Email to Jewish Book club members and post online ONLY contributions that are deemed relevant and appropriate. No malicious, hateful, racist, or otherwise inappropriate comments will be included on this site or in the email correspondence.